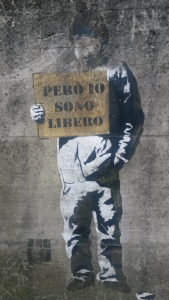 The picture strikes you immediately, the message a little later.
It looks like the work of Banksy, the most famous and mysterious street artist, and I like to think he has visited the Castle of San Vigilio in Bergamo and has left one of his works.
The sign in the hand of the man drawn on the wall reads: "But I am free." On the ground, on his left, there is something that could be a saucer.
These works of art have the peculiar ability to make the viewers think, but the thoughts they provoke depend on your interpretation. There are various questions that may arise in the minds of those who see the man in black and white on the wall with a declaration of freedom in his hands. One might be: "What is freedom?"
When it was new, the design might not have had the effect that wear has given it. The human image is fading and, even though the sign gives the impression that it will resist a little longer, the declaration of freedom is going away, consumed by time. Thus the man on the wall becomes, every day a little more, a beggar who insists on professing himself free, one of the many subjects that are camouflaged in cities.
So the answer to "What is freedom?" becomes less compelling; you just have to wait, and the provocation will flake off the wall. You can always delay the response to a question, especially to the most uncomfortable one: "What about me?"