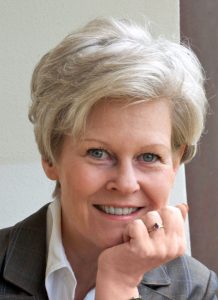 Sibyl (Esther Sibylle) von der Schulenburg was born in Lugano, Switzerland as daughter of two German writers. She grew up bilingual and multicultural, in Germany, Switzerland and Italy. She studied at the Catholic University and then at the University of Milan where she graduated in law. She worked for many years as managing director for a telecom company and traveled a lot in Europe, USA, Canada, Japan and China.
Her first book is the result of a long process of researches in private and public archives, about her father. With " Il Barone " ed. Ipertesto Edizioni – Verona (2010), the biographical novel about Werner von der Schulenburg is given to print; the story of a German writer, committed Europeanist and anti-Nazi. The book gets good reviews and the literature prize "Mario Pannunzio 2015"; historians and political scientists are interested in the character and soon the novel is mentioned in historical researches as the source of the official biography of Werner von der Schulenburg and of historical documents hitherto unpublished.
After studying psychology, Sibyl writes a couple of essay on matters such as bilingualism and architectural psychology.
From 2013 on, Sibyl writes and publishes psychological novels, stories of people living in psychic conflicts. At first her novels are published by an American publishing house but in 2014 she goes back to Italy and, since than, she cooperates with Il Prato Publishing House, where she also act as editor and coordinator for two novel collections.
Her writing style is dry and direct: essential. In " Stable of sorrow ," the narrator does not use any mentalistic verb, entrusting the detection of mental states to the scenes and dialogues; the style in other novels followed the track. In all the books the rhythm is tightened, the construction of the sentences is simple, the use of adjectives and adverbs limited; frequent is the use of the objective correlative. The author's ambition is to bring the reader into the scene and let the characters speak. In her writings, Sibyl reveals an Italian culture, restrained, almost governed, by German roots. The description of the places and characters in her novels, give an account of the influence of different literary styles: from Italian romance to German expressionism, crystallized into a personal style.
In more recent years she felt the need to dedicate part of her time to voluntary work and founded the association Artisti Dentro Onlus, through which she aims to bring art and culture to prisons.
Sibyl von der Schulenburg lives and works in the province of Milan with long stays in Tuscany, on the Etruscan Coast.